South Wall Fire and Rescue has been serving the Township of Wall since 1946. For over fifty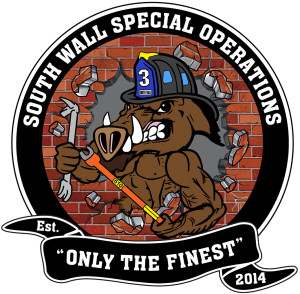 years, we have upheld the longstanding tradition of pride and service within the volunteer fire community. In order to meet the ever growing demands to preserve life and property, we are dedicated to expanding and evolving our resources. This includes new equipment, ongoing training, and exceptional skill level. Our goal is not to simply maintain our standard of performance, but to exceed it.
That being said, South Wall Fire and Rescue recognizes and values the years of mutual aid provided by our surrounding communities and agencies. In turn, we hope to return the favor and extend our services to our fellow departments. Established in 2014, South Wall Fire members have expanded our efforts and expertise to include response to Structural Collapse. Our new Special Operations Trailer houses lumber, Paratech Struts, and other assorted tools for these types of emergencies. To match our new equipment, our ongoing training efforts have been focused on technical rescue, including response to unable or compromised structures, rope rescue, methodical and specialized rescues, and more.