On Monday, March 3, 2017 at approximately 145pm South Wall was dispatched to a reported brush fire with possible exposure. While enroute a Box Alarm was transmitted for a now reported structure fire. Crews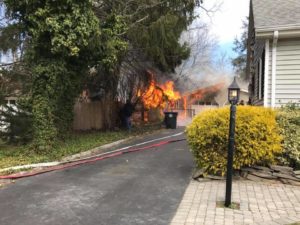 arrived and found a shed and garage on fire fully involved with exposure to two residential structures. First arriving crews off Engine 379 and 378 stretched 3 lines, quickly knocked down the bulk of the fire down and established a water supply. Crews on the Box alarm from District 2 and District 1 assisted with checked the two homes for extension which was negative other than the exterior. Point Pleasant Beach Fire Company also responded as RIT. Thanks to a quick and aggressive attack on the shed and garage and additional companies checking for extension two residence were able to return to their homes for the evening.
The fire in under investigation by Wall Police, Wall Twp Fire Bureau and Monmouth County Fire Marshals, there was no injuries.